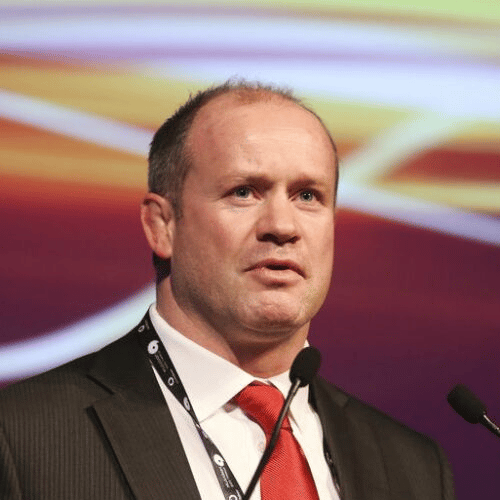 Frankie Sheahan
Business and leadership speaker Frankie Sheahan is an retired international professional rugby player from Ireland. After retiring in 2009 Frankie then set up Front Row Speakers which is now the fastest growing speakers bureau in Ireland and the UK. Frankie speacialises in sourcing world-leading speakers in the areas of leadership, motivation and entertainment for some of the largest companies and brands in the world. Additionally, Front Row Speakers source celebrity speakers for corporate events such as conferences and hospitality, product launches, and management training programmes. While many of the speakers come from the world of sport, such as rugby coach Joe Schmidt, boxing coach Billy Walsh and former rugby players like Brian O'Driscoll, Frankie also works with a lot of recognised faces from the world of business like Ivan Yates and Bobby Kerr. The entertainers he books are household names like Oliver Callan, Mario Rosenstock, Risteárd Cooper, Pat Shortt, Alan Shortt and Barry Murphy to name a few.
Frankie's passion for business, personal development, maximising potential and leadership sparked the idea of The Pendulum Summit – a one day international business and self-empowerment summit. Frankie and his team bring together the world's leading speakers from the business, leadership, personal development and mindfulness sphere. It is unique in that it is for all industries and for anybody who has the burning desire to constantly improve and reach their potential. In only its second year, The Pendulum Summit sold out with 1,800 delegates in January 2015 and since then has welcomed over 35,000 guests from Ireland and abroad.
Frankie was educated in PBC Cork and completed his Economics Degree in UCC. Recently, Frankie received a Higher Diploma in Leadership from the IMI and a Diploma in Sponsorship from ITEC.
Business & leadership speaker Frankie is incredibly sought after to give talks within the areas of leadership, motivation, entrepreneurship and after-dinner. His sporting and business background provide an effective and entertaining canvas for any speaking event.
Topics
Positive Attitude
Embracing Adversity
Personal Responsibility
Challenging Others
Teamwork
Leadership
Setting Goals
Positive Work Life Balance
Getting The Process Right
Testimonials
"Frankie was superb, many thanks for everything – the event was a great success and we really appreciated all the work that was put into the presentation to fit the theme of our event." – Victoria Whelton, Accenture
"I recently had the pleasure of collaborating with Frankie Sheehan in piecing together a unique CIPD experience. The event went very well, it was very well attended and the feedback was excellent. Frankie's insistence on attention to detail made the event run very smoothly. I would endorse Front Row in running similar events in the future as I know that Frankie ensure the Front Row team prepares for these as he did for rugby games with Ireland and Munster." – Enda McNulty, Motiv8.