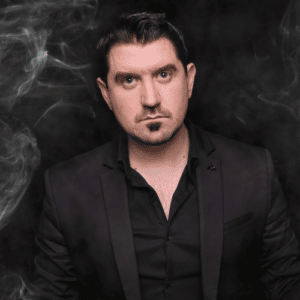 Steve Spade
Award Winning Illusionist & Escape Artist
Award Winning Illusionist  Steve Spade, was born in Limerick, Ireland, and has quickly established himself as a firm favourite on the Irish celebrity circuit. He combines top-drawer sleight of hand skills with psychological subtleties and great comic timing. His daring escapes – being burnt at the stake, or escaping from a sealed box underwater – have garnered national headlines.
Steve has been doing magic since his childhood, performing at every opportunity; on the streets and in the pubs and clubs of his native city. Steve also worked the kids party circuit, honing his skills in front of the toughest audience of them all!
Steve has been heavily influenced by the masters of the past, including Harry Houdini. His Houdini tribute show Beyond Magic packed the City Limits Comedy Club in Cork in the summer of 2011, as well as playing the college circuit. He followed that success with a stunt Houdini would have been proud of – Steve was sealed in a wooden crate and dropped into the River Shannon in front of over 2,000 people. He escaped safely. This led to a regular slot on The Daily Show (RTE 1) in the spring of 2012. Steve has also appeared on TV3's Come Dine With Me.
For Steve, the intimate miracle of close-up magic is at the heart of his art. He has wowed many celebrities, including Mike Tyson, Rihanna, and Kevin Spacey. No after-show party is complete without his manipulations – just ask Florence & The Machine, Calvin Harris, Metallica, The Coronas, Bressie, Glen Hansard, and many more. He stunned 10,000 people with his illusions at Electric Picnic. After watching him perform actor Kevin Spacey just scratched his head, and asked: "Can I have my watch back?". Luckily Steve only picks pockets for entertainment purposes!
Topics
Hiring a top class magician is an incredible addition to any corporate affair and when it comes to entertaining colleagues and those all-important clients, there is nobody who leaves an impression quite like Steve. Having performed for executives of some of the World's top Fortune 500 companies including Microsoft, Google, Diageo, BSkyB and IBM Steve has left many of the corporate elite absolutely mesmerised. Steve impresses so much that his clients insist on having him back time and time again.
Some of Steve's other corporate clients include Bank of Ireland, IRFU, Toyota Ted Baker Tommy Hilfiger and RTE. Steve was previously a regular guest magician on the Afternoon Show with Daithi Ó Sé and has also performed at the Jameson international film festival for some of the film industry's elite stars.
Fully Interactive Magic And Minding Show. 20, 45, 60  minute shows available. Perfect for team building, corporate parties, corporate meetings, awards ceremony and private parties.
Testimonials
Unbelievably talented magician. Steve has worked for myself on numerous occasions and always has my brain fried with his new tricks and new material. His interaction with the crowd is amazing. This is the guy you need to kick start your party or events. – Al Skelton, Managing Director, Allstar Producers
Steve is a great magician and we were so impressed with his work. We have already booked him for next year. Thanks Steve for your fantastic entertainment. You're magic. – Alice O Farrell, Organiser, Sparkle and Shine
"Ireland's answer to Houdini"  –The Irish Times
"He is a Master Magician"  –Steve Nolan, BBC
To book Award Winning Illusionist & Escape Artist Steve Spade for your event, contact Front Row Speakers on +353 1 485 3991 or email welcome@frontrowspeakers.com