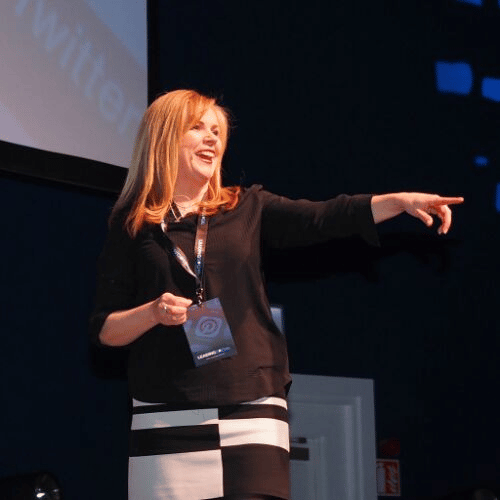 Samantha Kelly
social media strategist, speaker and trainer
Samantha is a social media strategist, speaker and trainer.  She is the owner of the Tweeting Goddess Social Media Agency, taking the name from her Twitter handle @tweetinggoddess! Samantha founded the highly successful networking event #Irishbizparty which trends weekly on Twitter and is the author of 'Tweet your way to Success'.
Most recently Samantha hosted the first ever social media conference in Ireland; Social Media Summit 2016.  Furthermore, this two day event, held at the Aviva Stadium in Dublin, attracted world renowned social media strategists and speakers such as Ted Rubin, Brian Fanzo and Melonie Dodaro.
Samantha is passionate about teaching businesses how to leverage social media effectively and add real value to their business. She runs regular training courses and is a dynamic and engaging speaker and trainer.
Samantha is the proud Mum of two beautiful girls and lives in Rosslare Harbour, County Wexford, Ireland.
Topics
– How to build valuable relationships and create a community using Twitter
– How to engage with influencers and become an influencer yourself
– How to use Twitter effectively for business
Testimonials
"There is a reason why they call Samantha Kelly the tweeting goddess, it is her brilliance and understanding of tweeting for businesses. This is not another social media course this is the ultimate course to get your business networked online. I recommend this for any small or large companies, you won't regret it. Thanks Samantha for making my tweeting experience so easy" – Fionnuala Reynolds
"Samantha Kelly is a whirlwind of energy and positivity, her enthusiasm is quite contagious! She is a person who gets sales, gets social media and gets people. Sam spoke for a couple of women's networks I manage(d) (Network Waterford and Waterford WEN) about self-motivation, business and social media, she engaged the audience, gave practical advice and was viewed as a great role model by her peers."  – Mags Durand O'Connor
"Samantha came to the gig as a audience member. We had a last minute drop out from the panel and were told that Sam was a whizz on social media. She ended up on the panel and was one of the stars of the show! Thanks again Samantha" – Fionan Murray
"Samantha travelled to Dublin recently to address our group E-Commerce Ireland and give some pointers to members on using twitter for business. Samantha is a kind and engaging person and the number of followers she has on twitter speaks for itself when it comes to her knowledge in this area. I wish her continued success!" – Colm Griffin, Founder at E-Commerce Ireland
"Samantha Kelly is a ROCKSTAR in my mind. I say this all the time, but it's just words…"Welcome to the 'Age of Influence,' where anyone can build an audience and effect change, advocate brands, build relationships and make a difference."
Sam turned it into her reality… she is my hero!" – Ted Rubin – Forbes Top 3 Twitter Influencers for CMOs in 2015