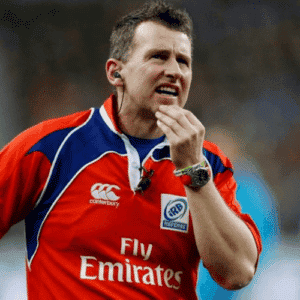 Nigel Owens MBE
International Rugby Referee & Keynote Speaker
Nigel Owens is recognised as one of the world's leading rugby referees. Highly respected, he has officiated in many of the sport's key matches. He is also the only openly gay rugby union referee on the circuit.
Before reaching the highest rankings of the rugby world, Nigel Owens had to come to terms with the despair that drove him to attempt suicide as he struggled with his sexuality, bulimia and an addiction to steroids. An inspirational story, his autobiography "Half Time" is a brave and honest account of his personal struggle to overcome fear and prejudice to become one of the most respected and well known personalities in international rugby union.
Topics
Nigel is an extremely popular and entertaining after-dinner speaker. His warmth and humour (he worked as a comedian in South Wales in the 80's) shine through his story, which is brimming with anecdotes about matches he has refereed and players he has met along the way: from Gavin Henson's first match, to on-pitch altercations with Austin Healey, Lawrence Dallaglio's intimidation tactics, coping with live televised matches, and needing a police escort from the grounds in Auch, France, to his thoughts on the Heineken Cup quarter final between Harlequins and Leinster on 12th April 2009, which was to rock the foundations of rugby worldwide when Harlequins wing Tom Williams bit on a blood capsule and faked injury.
Testimonials
We all loved Nigel's talk – he was so engaging and inspirational. We are thrilled with the engagement of employees and attendees, it's tough for us to get attendance on initiatives like this so delighted with how well attended it was. So far, feedback has been very positive, a lot of people were overwhelmed with Nigel's honesty around his story, and loved the Q&A.
-Finance industry, 2020
To book International Rugby Referee & Keynote Speaker Nigel Owens for your event, contact Front Row Speakers on +353 1 485 3991 or email welcome@frontrowspeakers.com