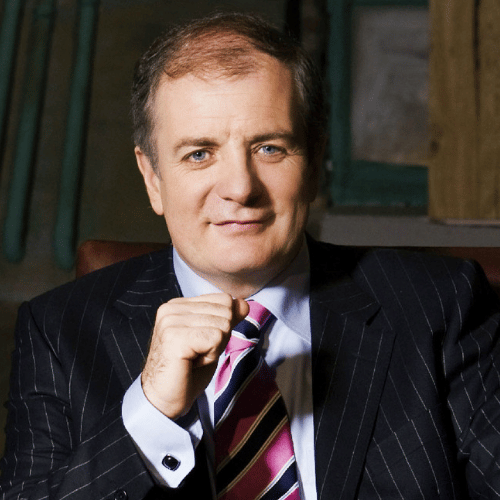 Gavin Duffy
Entrepreneur, Leadership Coach, Dragons' Den Investor & MC
Gavin Duffy is one of Ireland's top entrepreneurs and most sought after motivational speaker. His witty, engaging and entertaining speaking style is guaranteed to inspire any audience or group.
Gavin is publicly known for his work with entrepreneurs on all seven series of RTE's Dragons' Den. Gavin's career in media started at age seventeen, setting-up a local radio station in County Louth. He was the presenter of the first RTÉ television business programme, Marketplace, and two years before that in 1985 was one of the first broadcasters on Morning Ireland on RTE Radio One. He won the franchise for regional radio station LMFM in 1989, later sold to UTV.
Gavin's extensive experience, both in radio and on television coupled with his knowledge and expertise in business ensure that he is a naturally engaging MC and speaker.
Testimonials
"Gavin has been MC for the last three years of the Awards for Excellence in Public    Relations. He carries out that role with a great sense of fun and enthusiasm, while ensuring that the event moves at a brisk pace. I have no hesitation in recommending him for any such event."
– John Carroll, CEO Public Relations Institute of Ireland (PRII)
"Gavin Duffy has been a great addition to and supporter of the Bank of Ireland Enterprise Programme throughout 2015. His attendance and presence at our Enterprise Town events across the country is always well received as is his genuine interest in local small businesses and the communities in which they operate.  Gavin brings his own unique blend of experience as an entrepreneur and broadcaster to the events and adds value for all those attending, whether they be business owners or local residents."
– David Merriman, Head of Enterprise Development, Bank of Ireland
"Gavin is an excellent after dinner speaker, very positive, uplifting and inspirational. He really engages with the audience and truly entertains by being funny, serious and most importantly, relevant. He was also a pleasure to deal with in the run up to the event and I would highly recommend him"
– Jerry Moriarty, Director of Policy, Irish Association of Pension Funds