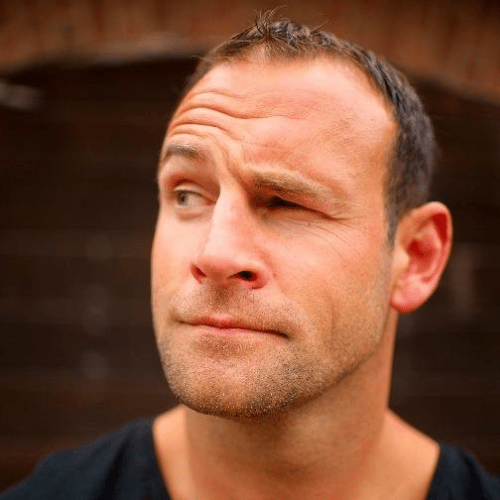 David Nihill
Founder, Speaker & Author
From Dublin, Ireland, David Nihill is the author of the bestselling book Do You Talk Funny? and the founder of FunnyBizz Conference. His work has been featured in Inc., Lifehacker, The Huffington Post, Entrepreneur, NPR, Fast Company, Forbes and The Irish Times.
His workshop, with over 10,000 enrolled students, has been featured by Prezi as one of the best online training courses for presenters and his book remains one of the highest rated in the world on the (usually not so exciting) topic of public speaking.
As a course instructor David works with San Francisco State University, UC Berkeley, General Assembly, and the Nasdaq Entrepreneurial Center, where his teachings have been featured in their entrepreneurs Pitch Tool Kit, a collaboration with the US Chamber of Commerce.
As a storyteller he finished runner up in The Moth's largest storytelling competition and has won multiple Moth Storyslam competitions. He has performed stand-up comedy at leading clubs like the Comedy Store, the Improv, the Punchline and the Upright Citizens Brigade even though he strongly denies being a comedian and is well aware most people don't understand his accent.
David has been a guest lecturer at Hult International Business School and has spoken recently at leading events like Web Summit, Collision Conference, Prezi's Present Conference, Leade.rs, The LeanStartup Conference, and as part of Google's author talks series.
His clients include top companies like LinkedIn, HarperCollins and Creative Live, bestselling authors, TV personalities, CEO's, and TED speakers. A graduate of the UCD Michael Smurfit Graduate Business School he wears a tie but only to bungee jump, and calls San Francisco home when immigration officials permit.
Topics
Speaking to Engage Workshop & Keynote
Where Public Speaking is Actually Fun!
Overview: Based on David's bestselling book Do You Talk Funny, Learn Comedy Habits to be a better public speaker, consistently funnier and help rid the world of boring presentations!
» Modern day speakers are expected to be entertainers.
» Top business speakers are using humor.
» They are developing engaging material using the same process as comedians.
» You don't need to be naturally funny to up the entertainment in your next talk
» You can become a good public speaker fast if you know a few key techniques, even if you hate public speaking.
We de-construct the techniques from standup comedy into habits and show you how to translate them into public speaking skills for the world of business. These Comedic Habits are aimed at helping you deliver a more memorable, entertaining and engaging presentation, every time.
Whether you are a seasoned presenter or someone with a real fear of public speaking (like me!) these easy to apply steps will help you stand out from the crowd. These techniques are being applied by numerous TED talks, start-ups, entrepreneurs, keynotes, interviewees and professional speakers to further engage their audiences and we take you through how to do the same.
Most presentations are really boring. With application of these habits yours will not be!
Key Takeaways
» How to craft a story and content that your audience will want to listen to.
» How to find the best parts of your material and how to get to them faster.
» How to deal with stage fright and flop sweat.
» How to avoid ever going blank on stage.
» How to master the two most important parts of your performance: timing and delivery.
» Tons of actionable tips that will make a big difference in your next public speaking engagement
Testimonials
"David is able to break down step-by-step, in a very human way, how to build engaging presentations that excite your audience. Classes are engaging, entertaining, and all his students walk away happy and with new ways to deliver great content."  – Celena Aponte, Director of Strategic Initiatives at the Nasdaq Entrepreneurial Center
"David was a notch above a normal speaker. Not only was his content great for building up interest in our event, but it delivered on his promise of entertainment and learning. Add that to the fact that David participated fully in our conference – signing books, talking to attendees, participating in other talks and all the social media fun – and you end up with some very happy organisers who wouldn't hesitate to reach out to David again." – David Hooker, Chief Evangelist, Prezi and Present Conference Producer
"David's class is a big hit with students and always ranks on the very high end of our evaluations. It's a hands-on educational experience that is equally fun as it is practical."  – Anya Vo, Education Programs Producer, General Assembly