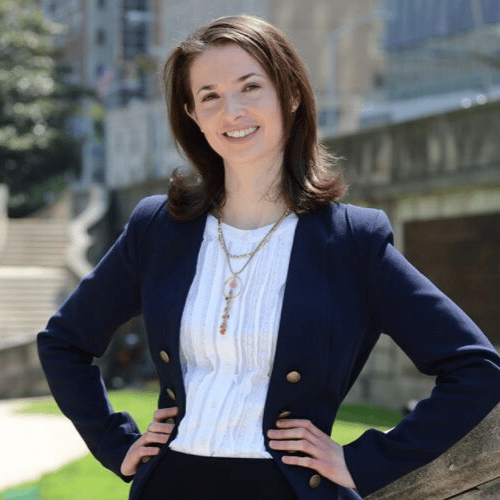 Avery Blank
Leadership Expert, Impact Strategist, "Bulldog Ballerina"
Avery M. Blank, JD strategizes with individuals and organizations worldwide to help them attain their business, leadership, career, and policy goals. People call her the bulldog ballerina because she is graceful, strong, and persevering and helps others to similarly advocate for themselves.
Blank is a Senior Contributor with Forbes and Agenda Contributor with the World Economic Forum. She has spoken at Campbell Soup Co., Oxford University Said Business School's Power Shift Forum, the U.S. Department of State, Women in Strategy Summit, the National Diversity Women's Business Leadership Conference, and Propelify Innovation Festival, as well as for Harvard Law School, Celebrity Cruises, and the Delaware Bankers Association. Upcoming engagements include the Women's Business Forum in Ecuador.
Blank is a Board Member with the American Bar Association's (ABA) Legal Career Central and a member of the Editorial Board of the ABA's Public Lawyer. She sits on the Advisory Council with The Wilson Center's Women in Public Service Project. Blank is a Tribeca Disruptor Innovation Fellow, Aspen Ideas Festival Scholar, and SheSource Expert with the Women's Media Center.
Topics
Women's leadership and empowerment, women in male-dominated fields
Self-advocacy: how to self-promote without the backfire
Risk-taking and leadership
Building confidence and competence: getting comfortable with discomfort
Negotiating
Millennials: dispelling the myths, leveraging their strengths, and capturing business opportunities
Opportunity identification and positioning
Social media and gaining influence
Board diversity
Testimonials
"You hit it out of the park! Thank you for keynoting the first ever DBA Women Connect event and sharing your inspirational words and story with our members. The feedback we have received has been phenomenal. Your Heart to Heart talk has inspired so many women to do justice to the girl in them."
Sarah Long, President and CEO, Margaret Cregan, VP, Delaware Bankers Association
"Listening to Avery's "How to Self-Promote without the Backfire" talk, I felt inspired to take control of my career and set in place actionable steps to accomplish goals that once feared me. Thank you, Avery, for laying the ground work to change my future!"
Courtney Van Auken, Campbell Soup Co., Marketing Technology Data Analyst