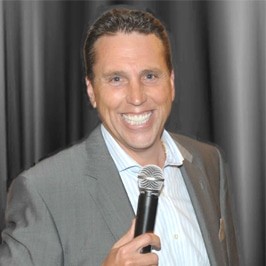 Russ Williams
Russ Williams entered the world of show business at the tender age of 11, being chosen as a child actor to appear in the play Jack The Ripper which later aired on BBC1. With a keen interest in entertainment, he took his first steps onto the comedy circuit at the age of 22 years and in 2000, he was awarded the coveted title of Comedian of the Year.
But Russ Williams is much more than a top notch comedian. Over the past 12 years he has been in great demand in the corporate market and on the sporting dinner circuit, where he has gained an enviable reputation as a superb host and presenter. His performances have proved so successful, that a number of the leading conference and after-dinner speakers use Russ as their scriptwriter.
On the sports circuit, he has hosted The European Ryder Cup Winners Dinner 2011, The Manchester United Players Player of the Year Awards 2011, Spurs end of season Golf Day 2011, Arsenal Double 1971 Players Dinner, the launch of The Steven Gerrard Foundation 2011 and most recently The Duke of Essex Polo Cup.
Russ has worked, personally, for some of the greatest names in the world of sport, including Sir Steven Redgrave, Sir Matthew Pinsent, Sir Trevor Brooking, Sir Geoff Hurst, Sir Henry Cooper, Steve Backley, Ricky Hatton, Glenn Hoddle and Steven Gerrard.
Russ has travelled the world, hosting and presenting for amongst others, The National Drinks Awards, The Wella Hairdressing Awards, The ABTA Travel Awards, The National Cash & Carry Awards, The Dot Com Awards and numerous in-house corporate awards dinners.
Apart from his hosting and presenting, Russ has also developed a completely unique role for charity and corporate events, that of Comedy Charity Auctioneer. This has taken him around the world hosting events for the Variety Club, The Willow Foundation, The Teenage Cancer Trust, Sparks, ChildLine, Orchid, The Bobby Moore Foundation and Make a Wish Foundation.
Topics
Comedy Charity Auctioneer
After- Dinner Speaking
Hosting & Presenting
Sports & Corporate Dinner Events