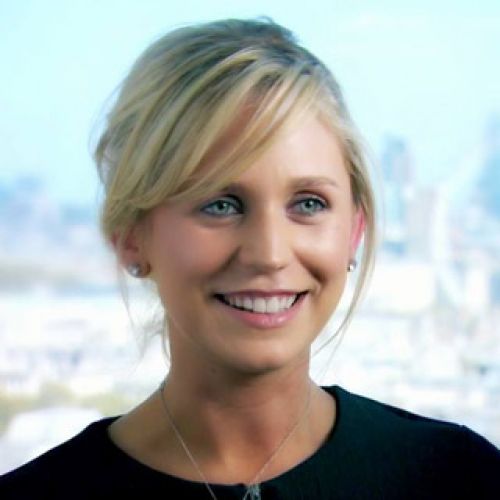 Roisin Hogan
Entrepreneur & UK Apprentice
The harder I work, the luckier I get!" – This is the mantra that Roisin lives her life by.
It's hard to put Roisin in one box – she is a chartered accountant, an entrepreneur and best known as a semi-finalist on the Apprentice 2015. With 7 years' experience in a big four global accountancy firm, Roisin excels in a high-pressure corporate environment. However, that's only part of Roisin's story.
Roisin grew up in Dublin, Ireland and attended University College Dublin, gaining an honours Commerce degree. Working in Ernst & Young for seven years, Roisin was appointed by the European executive group to the Accelerated Leadership Programme. It was here that Roisin developed a confident and dynamic management style and became an expert at building teams that were enthusiastic, career driven and results focused.
Roisin has a very commercial mindset and a healthy risk appetite, which inevitably led her to striking out on her own. Roisin's journey to entrepreneurship started with her giving up smoking as a New Year's resolution. This single event became the catalyst and inspiration for a very interesting journey that led to Roisin leaving her promising career in accountancy and taking the risk of starting her own business. Roisin is now launching her new business nationwide in early 2015.
Topics
Working in a large, corporate environment Roisin noticed a variety of issues facing people, particularly women, in the work place. She became aware of these issues through talking to colleagues, as a mentor to people and through her own experiences and observations. A lot of these issues can be solved once identified.
Drawing on her experience Roisin shares ways to address these issues in a practical and real way. Roisin doesn't use jargon or buzz words and can be controversial with her straight talking manner about:
• Combatting Impostor Syndrome & making it work to your advantage
• Flexing your style to work with difficult clients/colleagues.
• Understanding prioritisation – to help get you out of the office earlier
• Empowerment, inspiration & motivation. Motivating yourself and inspiring others.
Roisin realised that her new business had tremendous potential and decided she needed a significant promotional platform to launch it on a big scale. She therefore competed in front of millions on BBC1's The Apprentice, a popular UK entrepreneurial television show, and created her own launch platform. As a stand out candidate on a notoriously grueling and difficult process Roisin emerged with her credibility and dignity intact. Roisin shares her experiences from the show, including:
• Confidence in work
• Keeping cool under pressure
• Fighting your corner
• Voicing your opinion
• Let yourself be creative
Roisin has an unusual story, from her corporate accounting days to starting her own business to the Apprentice. She has amassed a diverse range of experiences along the way that she shares in a conversational and engaging manner.
Testimonials
" the show's strongest ever all round contestant" The Metro
"to replace Nick Hewer" The Metro
"Lord Sugar's biggest ever mistake" The Telegraph
"Quite extraordinary" "she could negotiate anything off of anyone" "I like her style" Karen Brady
"she went to the 2nd largest retailer in the world and got a staggering order" Nick Hewer
"very clever" "highly intelligent" "sailed through the process" Lord Alan Sugar
"stand out performer" Dara O'Briain
"Roisin is the clear winner" Richard Reed, co-founder Innocent
"A calculated risk-taker" was how she described herself on her application form. Submitting to the bloodbath of humiliation and backbiting that is The Apprentice and exiting with her held head high appears to have been one such calculated risk." The Irish Times
"The one who's really caught my eye is Dublin accountant Roisin Hogan, who has the looks of a Swedish model and the eyes of a Scandi-noir killer…..Honestly, if she doesn't win, I'll be in contact begging her to be my daughter's mentor. And possibly mine too." Judith Woods, The Telegraph
"Dr Leah Totton says she has her eye on Róisín to win and told The Irish Post she expects her to go far." The Daily Post
"I've been watching Roisin from Dublin this year and she's very smart." Dr. Leah Totton, winner of The Apprentice 2013
"Roisin is fab!" Luisa Zissman, runner up The Apprentice 2013
"Good manager: Irish accountant Roisin was always composed and calm – which is impressive considering her maddening colleagues" The Daily Mail
"Roisin was again the strongest….. She's really coming to the fore,. She's a clear leader." Lee McQueen, The Telegraph