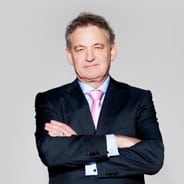 Peter Casey
Entrepreneur, Writer & Speaker
Derry native Peter Casey is Founder and Executive Chairman of Claddagh Resources, a global recruitment and search business that places high-level executives with some of the world's largest and most influential consulting and IT firms.
Having established successful business interests in Australia and Ireland, in 1995 Peter Casey set up Claddagh Resources in Atlanta, Georgia where he is now based.
Claddagh currently operates from six locations worldwide including their European base outside Buncrana in Donegal. Their clients include well-known names such as Tata Consulting Services, Ernst & Young, Oracle, AVG Software and SAP.
Claddagh was one of three companies chosen by Coca-Cola to help staff up their roll-out of SAP globally.
Peter is also Chairman of Online Interview Ltd, an Irish-based online hiring system that allows companies a flexible solution to create and record live or automated video interviews using immediate candidate responses to important questions.
A passionate believer in the future of online education, Peter was instrumental in introducing Tata Consultancy Services to the Irish third level education system in a collaboration that will put Ireland to the forefront of the next generation of MOOCS (Massive Open Online Courses).
Since 2009 Peter has invested in commercial, residential and agricultural property in Ireland.
Peter lives in Atlanta with his wife Helen and their five children and divides his time between there and his family home in Derry. He travels extensively, working with a portfolio of blue chip clients worldwide.
Peter is best known for his role as a Dragon on the RTÉ television programme Dragons' Den where he has made several successful investments.
He is also an accomplished writer, political and business commentator, with regular articles published in the Sunday Independent. His pieces have also appeared in the Sunday Times and Sunday Business Post among others.
Peter's 2014 book, Tata – The World's Greatest Company was published by Penguin and is now in its second reprint in India where he has conducted signing and speaking tours in major cities.
Peter was named by Irish America Magazine as one the leading Irish American businessmen for 2007. Peter's approach to business is simple. He likes to invest in people.