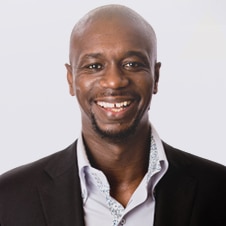 Pa Joof
Motivational Speaker & Leadership Trainer
Pa's extraordinary life spans three continents, and connects the unlikeliest of places – a tiny country in West Africa, to the heartbeat of Europe. Born to illegal immigrants in the UK, Pa's family was sent back to his native Gambia when he was just a child. Cramped in a single-bedroom for eight years, Pa knew that life would be difficult if he ever returned to the UK.
But that's exactly what he did. At 17, Pa came back, his younger brother in tow.
Determined to carve a better life for himself and his family, Pa tackled and overcame each obstacle with the single-minded pursuit of success. Failure, quite simply, was not an option.
Having graduated from University, Pa rose through the ranks in the corporate world, eventually holding position as European Head of Banking for a Fortune 500 company. Overseeing sales and corporate training initiatives in several other blue-chip companies, Pa was responsible for over $1 billion in assets.
Pa could have created excuses, remained in his comfort zone in Gambia, and settled for the ordinary. He could just as easily have carried on with a comfortable job in the UK. He did not. Pa's desire to share his inspiring story and to bring hope to people, and his indomitable entrepreneurial spirit came together in a perfect combination for a life-affirming, transformational experience.
Topics
Pa's unique style, infectious laugh and natural charisma propelled him to the heights of self-development. He now trains and coaches tens of thousands of people worldwide on wealth creation and personal development. He is an "Elite Trainer" with the esteemed Robbins Research International, and a part of various charitable efforts the world over.
As one of the most celebrated motivational speakers and leadership trainers in the world, Pa's unique perspective and life lessons can move people to take action, face challenges head on, and get the odds of success in their favour.
Testimonials
"Pa not only has one of the biggest hearts that you will find, but he uses it to drive his ability and passion to deliver real results."
IT Project Manager | Australia