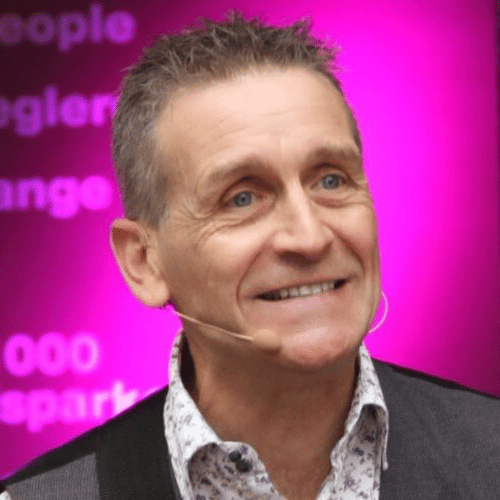 Neal Fullerton
Team Building Expert Neal Fullerton uses music to energise conferences and bring people together with his unique, and highly interactive musical sessions. He is passionate about music and a very engaging speaker who has performed at hundreds of conferences in Scandinavia, delivering what is a powerful metaphor for teamwork.
He uses very simple instruments which are handed out to the audience (tuned plastic tubes called "Boomwhackers" that produce different notes when struck). With these basic resources he transforms the "audience" into "participants" and can get 500 conference delegates all working together and playing Beethoven's 9th symphony!
Neal brings experience from some very diverse areas including music, business, communication and entertainment. His journey has led him from the Royal College of Music to music therapy, and from there to the entertainment world, working as a professional musician and entertainer internationally for many years. His business experience includes working with several international blue-chip companies in the UK such as Pilkington and Bausch & Lomb running successful sales teams. He also has worked with key players in the Scandinavian oil industry including ConocoPhillips and Statoil – creating and delivering customised training courses in business presentation skills. This rich combination of experience and knowledge makes for a very engaging speaker. What is common to all of this is communication and teamwork. Neal says: "Think of any good band – The Rolling Stones, Duke Ellington or the Royal Philharmonic – they're all really good "teams" that communicate effectively to produce harmony.")
Topics
Neal's interactive musical session will energise your conference delegates and also vividly illustrate what can be achieved with effective teamwork. (It's also very entertaining) With the entire audience actively involved and contributing, an atmosphere of engagement and participation is naturally created. This in turn, positively impacts the following sessions during the conference. A musical energiser session delivers many benefits for a seminar or conference such as:
– Energising the audience
– Demonstrating teamwork
– Re-focusing the group after lunch
– Motivating the group
– Kick-starting a meeting
– Breaking the ice
– Getting people talking to each other
Using music in this interactive fashion is a subtle way to deliver key messages to take away about teamwork – and it avoids the trap of "over-doing" it with audiences switching off. The elements that stand out during the session are:
– We need each other
– Cooperation is essential
– Everyone has something to contribute
– Listening is important
– Communication is vital
– Maintaining your focus is key
– Leadership is necessary
Audiences love Neal's energy and passion for music, together with his entertaining stage presence. They enjoy his insights into how music "works" and in a very engaging style, he demonstrates how the skills needed to play music together are also transferrable to the work place.
Conference delegates are engaged, interested and energised.
The Team Building Expert can present in English or Norwegian.
Testimonials
"Neal ran several sessions at an annual company meeting including colleagues from across Europe, Africa and the Middle East. He did a brilliant job of engaging the whole audience of over 100 people and tailored his sessions to the theme of the meeting….. As well as ensuring we had a lot of fun. …… No hesitation in recommending Neal!" – Vice President EMEA Supply Operations and Customer Service, Pfizer UK
"I have had the pleasure of working together with Neal on several company events and teambuilding sessions. Neal is dedicated, very organized and extremely good at what he does. The musical teambuilding session is as good a teambuilder and icebreaker as any in the business and Neal "does his thing" to perfection each and every time. Full of energy, good humour and a natural touch." – Kevin Juhl-Thomsen – Event Manager at Team Works AS
"Neal is great to work with on event projects that need both entertainment and education – so called edutainment. His different concepts give the audience a sense of involvement and engagement. Boomwackers Rule!" – Morten Paus – Managing Director Komon-Stageway AS
"I have had the pleasure of working with Neal over many years. He is an incredibly dedicated person with the ability to engage any audience. Whether you need entertainment or team building for an event, Neal is the man you are looking for. I can confidently recommend Mr Fullerton." – Morten Andersen, General Manager at Ntc Profil
"Neal was excellent. It was a tough audience to engage with but he managed it. Who would have thought he could get over 100 managers singing! Neal related the content very well to working to together and working to one goal and 'sticking to the plan'. Feedback I've had has been that this was the best communications day. Ending it with Neal will make it memorable for a long time." – Helen Gemmell – Marketing Director at Selco Builders Warehouse UK
Neal recently facilitated a wonderful interactive and impactful session for 700 people at a University of York Conference for its professional and support staff. The energy in the room that he created was incredible. People are still talking about its impact today, 7 months later. If you are looking for someone to bring home to people in a very short space of time to impact of them working together, in a fun, interactive way, I could not recommend Neal highly enough." – Kate O'Sullivan – Director of Learning and Development, University of York UK
To book Team Building Expert Neal Fullerton for your event, contact Front Row Speakers on +353 1 485 3991 or email welcome@frontrowspeakers.com