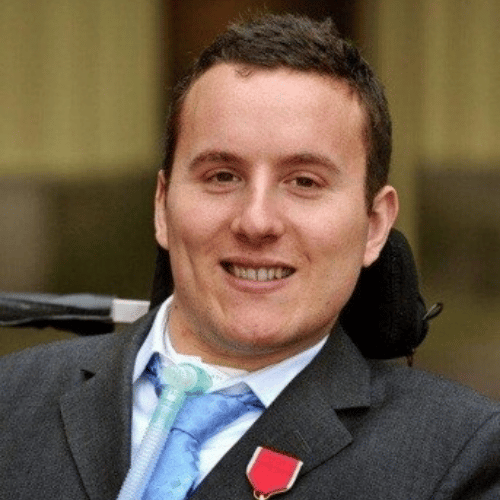 Matt King OBE
Motivational Speaker, Change & Resilience Expert
Like you, Matt King OBE has experienced adversity. Personal problems, professional challenges, who hasn't? But unlike others, Matt's challenges were brought about through a broken neck, paralysis and an uncompromising view at what is achievable in life.
Described by The Independent as 'the inspirational journey of an inspirational man', the rollercoaster of emotions Matt's keynote will lead you through will have you coming away inspired and empowered to be the best YOU can be.
Waking up in hospital as a 17-year-old, Matt's life had changed unrecognisably. Paralysed from the neck down, ventilator dependent and laying in a specialist spinal cord injury unit, his ambitions had changed along with it.
His first goal was simply to survive. Matt's view is radically different from others professing the secrets to success, simply because he lives his techniques and strategies for success, every second, of everyday. Without them, Matt would not be here.
Matt has defied the odds, overcome his Everest, but rather than merely surviving, he has thrived! Happily married with two beautiful daughters, Matt practices law as Legal Counsel for the Williams Racing Formula One Team, is a record-breaking marathon runner and skier, an internationally bestselling author and the youngest ever recipient of the OBE in the United Kingdom.
Matt has worked with the best, and helped them to become better! Coaching the England Rugby League National team, professional sporting teams, NHS Managerial and Clinical Staff, sector leading corporations and businesses, universities and schools – Matt uses his experiences to help anybody, of any age, overcome the obstacles in their path.
Matt's presentations focus on the power of mind-set and personal resilience to overcome adversity, adapt to change and thrive in the most difficult of circumstances.
Matt proves to audiences that setbacks can be turned into opportunities, that we each must be accountable for making changes and that the personal resilience required to accept and overcome is simply a state of mind attainable by each and every one of us.
Sharing the same skills and techniques he has used to excel, those hearing the emotive and provocative way Matt King OBE shares his journey will gain an all-important perspective of the challenges they face and leave armed with the practical tools to maximise their potential in both their personal and professional lives.
Testimonials
"Words cannot do justice to the impact Matt has had on our workforce. As a speaker he is inspirational, as a person quite unbelievable and as a tool to engage our employees, he has been invaluable."
– Martin Coyd OBE, European Head of Environment Health and Safety, Skanska UK
"Matt took to the stage to close a one-day conference in front of 600 of American Express valued employees, and you could have had a pin drop throughout; he utterly captivated his audience with his inspirational story, but more importantly, empowered delegates to face and overcome their own personal challenges. I wouldn't hesitate to recommend Matt."
– Victoria Howard, American Express Site Engagement Leader
"Matt's messages are clear around the power of teamwork, linking in well with the rest of our content, but the magic of Matt's presentation is Matt himself. He is inspirational and the stories of his achievements in the face of adversity that most of us cannot imagine are very powerful and moving. All delivered by an intelligent, witty and charming guy. He received a well-deserved standing ovation from our leaders and we're hoping he has the same effect on our management population in May."
– Jennifer Wain, Senior Communications Manager, Geoban UK (Part of the Santander Group)
"Matt's impact on our staff has been phenomenal and they report that he has truly influenced their outlook on life. The atmosphere when he told his story was nothing less than electric, you could have heard a pin drop. From an organisational perspective, he is superb value for money. From a personal perspective, his value is immeasurable."
– Jill Byrne, Director of Nursing and Patient Safety, Aintree University Hospital
"We celebrated our International Men's Day today with Matt King OBE, a positive role model who should be heard by as many people as possible… The world would be a better place! #positive #rolemodel #kindness"
– Karen Pengelly, Canada Life UK, UK HR Director
To book Matt King for your event, contact Front Row Speakers on +353 1 485 3991 or email

[email protected]