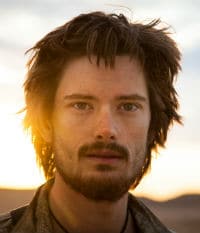 Leon McCarron
Adventurer, Film-Maker & Writer
Leon McCarron is a Northern Irish adventurer, film-maker and writer. He is a Fellow of the Royal Geographical Society and specialises in long distance, human-powered expeditions; his aim is to explore, educate and entertain through his journeys, and to encourage everyone to embrace an adventurous mindset.
In Winter 2011-2012 Leon spent 6 months walking 3,000 miles across China, filming a National Geographic TV show along the way. The result was an intimate portrait of a country changing at a rate of knots, seen in a unique light at ground level. Previous to this Leon rode a bicycle 14,000 miles from New York to Hong Kong; this trip too was documented in a television show which aired in over 60 countries worldwide. Most recently Leon trekked 1,000 miles through the Empty Quarter desert in Oman, following in the footsteps of the late British explorer Sir Wilfred Thesiger. A feature length film entitled 'Into The Empty Quarter' was subsequently premiered at the Royal Geographical Society in London in Autumn 2013, and will go on a world tour of film festivals in 2014. Leon's first book will be published in July this year.
Leon has released his first book – The Road Headed West. It tells the story of his journey through North America by bicycle – from New York to Seattle, then down the west coast to the Mexican border. At heart it is a rite-of-passage story about what happens when you take to the open road in search of adventure. It is also a portrait of North America as he experienced it on two wheels – a slow, intimate journey through a fascinating continent.
Topics
Leon is a passionate storyteller and a firm believer in the power of an adventurous mindset as a key element of fulfilment and success. He brings the audience on a journey with him; along the frozen banks of the Yellow River on foot, over the high passes of the Rocky Mountains by bike, or through the searing heat of the Empty Quarter desert with a 300kg cart in tow. Leon relates the lessons he has learned from these expeditions to everyday, real-life challenges. Adventure is not just trekking across China or navigating through a subzero blizzard – adventure is all around us, everyday, and in his talks Leon explains the benefits of recognising and embracing this concept.
Testimonials
A fantastic talk…truly memorable and fitted in so well with the emerging themes – TEDxBelfast
His vibrant, enthusiastic presentation and crisp photographs enlivened further the evening's event, already enthralling. The audience were generous in their applause and there were more questions than there was time for – Royal Geographical Society
An inspirational talk. Very well presented and the message: BRILLIANT! – Elite Vision Coaching