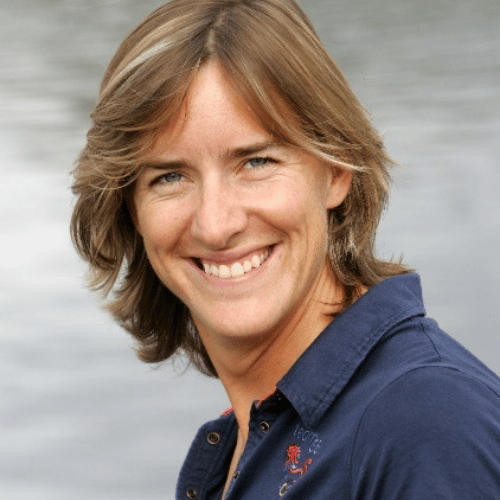 Dame Katherine Grainger DBE
Britain's Greatest Female Olympian
Katherine was born in Glasgow on the 12th November 1975 and is Great Britain's most decorated female Olympian. Katherine graduated in law from Edinburgh University, then went on to achieve an MPhil in Medical Law and Medical Ethics from Glasgow University, and in May 2013 completed a PhD in the sentencing of homicide at King's College, University of London.
Katherine took up rowing at Edinburgh University in 1993 and made such good progress she was awarded the Eva Bailey Trophy as their most outstanding female athlete in 1996 and again in 1997 when she won her first international Gold medal at the U23 World Rowing Championships.
She is the Honorary President of the Scottish Amateur Rowing Association and is a member of Edinburgh rowing club St Andrew Boat Club and a member of Marlow Rowing Club. She is also an honorary life member of Aberdeen Boat Club.
In November 2009, Katherine was named as Scottish Sportsperson of the Year and awarded the "Emirates Lonsdale Trophy" by Commonwealth Games Scotland, the first female to win this prestigious award, and in the process leaving such Scottish sporting luminaries as Andy Murray and Sir Chris Hoy in her wake.
In December 2010 Katherine was excited to be awarded an honorary doctorate by The Robert Gordon University, Aberdeen. In June 2011 she was delighted to receive an honorary doctorate from her former university, Edinburgh University.
In 2012 Katherine's dreams were realised when she won the elusive Olympic Gold medal alongside teammate Anna Watkins in the double sculls in London. She is Britain's most successful female rower and the only female athlete – in any sport – to gain medals in four consecutive Olympic Games. Katherine was appointed Commander of the order of the British Empire (CBE) for services to rowing which was announced in the 2013 New Years Honours.
Since winning her Olympic Gold Katherine has been short-listed for the 2012 BBC Sports Personality of the Year Award, had a post box in Aberdeen painted gold in her honour, appeared on the Superstars television show and has been a guest on Question of Sport, Countdown and the Clare Balding Show on BT Sport. She was elected to the British Olympic Association's Athlete Commission and became a member of the Board for the charity 'International Inspiration'.
In all, Katherine took a 2 year break from the GB Rowing Squad during which time she also completed her PhD and wrote her autobiography 'Dreams Do Come True'. She spent time working for the BBC as a co-presenter on the Rowing World Cup coverage, the BBC 'Inspire' series and as a pundit during the 2014 Commonwealth Games in Glasgow. She spent her spare time visiting schools and sports clubs and developed her natural talents as a keynote/after dinner speaker in which she tells a compelling tale of the journey to success.
The end of 2014 saw a new chapter begin as Katherine returned to the GB Rowing squad and a demanding training regime. At the 2015 World Rowing Championships, Katherine and Victoria Thornley her new partner in the double scull) qualified the boat class for the Rio Olympic Games in 2016. On the 11 August 2016, Katherine became the most decorated female Olympian of all time winning a silver medal, narrowly missing the gold after leading for 3/4 of the race. For many who had not expected this pairing to even qualify for Rio, their result was outstanding and propelled Katherine into the history books.
In March 2015 Katherine was inaugurated as Chancellor of Oxford Brookes University, a role she will hold for a 7 year tenure. Katherine is eager to be part of shaping the future of the University and credits her own extensive time in academia for helping shape her rowing career.
Katherine has been appointed as the chair of UK Sport for a term of four years, Sports Minister Tracey Crouch confirmed on the 21st April 2017. Katherine took up the role on the 1st July 2017. Sports Minister Tracey Crouch said: "Dame Katherine is a peerless leader both on the water and off it. As one of our greatest ever Olympians, she has an outstanding understanding of high-performance sport, and through her educational and charity work has a proven commitment to inclusion. I know she will be an inspiring chair of UK Sport. I would also like to thank outgoing chair Rod Carr for his superb work at the helm of UK Sport over the past four years."
Topics
– Teamwork
– Overcoming Challenges
– Motivation
– Winning
– The importance of communication