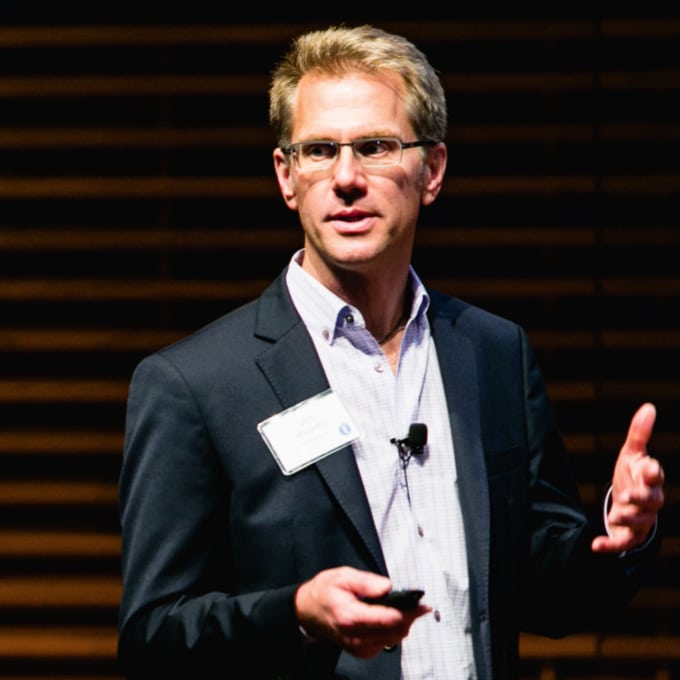 Jim McCarthy
Motivational Speaker on Happy, High-Performance Teams
Jim McCarthy is an internationally acclaimed motivational speaker on happy, high-performance teams. He loves helping companies approach management training and culture in a radically new way, by teaching employees proven methods to achieve goals and reduce stress. Jim's workshops often include scientific research, anecdotes, writing exercises, group discussion, action items, and daily practices.
Jim has more than 19 years of executive and board level experience in Silicon Valley. He became employee # 258 at Yahoo in 1997, and later worked at NexTag, BlueLithium, and Drawbridge. Earlier in his career, Jim was an English teacher in Frankfurt, a business journalist in Madrid, and a McKinsey consultant in Munich.
Audiences deeply appreciate Jim's unique perspective — as a Stanford MBA, Internet pioneer, world traveler, father, and person living with a cancer diagnosis.
Jim shares what he has learned with companies of all sizes through keynote speeches, highly interactive workshops and customized training programs. His talks aren't just inspirational—you'll take away practical strategies, scientifically proven insights, and action plans on how to change your thoughts, your career and your life.
Topics
Happiness: Create Your Pleasure, Purpose and Peace (3 to 6 hours)
Are your employees happy? This internationally acclaimed workshop helps your team contemplate their careers, legacy, relationships and meaning. They will walk out with strategies and tactics to overcome obstacles, reduce their stress, appreciate their work, and be happy — right here, right now. This workshop will help them rethink, refocus, and reenergize.
Positive Attitude: How to Train Your Brain for Success (1 hour)
Scientific research tells us that a typical human being's thoughts are roughly 80% negative. A person's "negativity bias" is bad for their relationships, their career, and their health. This workshop is ideal for teams who want to be more positive in the face of tough daily challenges.
Keep Calm: How to Reduce Your Stress (1 to 2 hour hours)
Almost everyone would like to have less stress in their lives. And research proves that relaxed employees are more productive (and happier!) employees. The good news is that your teams can learn how to relax by applying these simple lessons.
Testimonials
"A tremendous experience. I highly recommend to others that they do this!"  Heidi Roizen, Venture Capitalist at Draper Fisher Jurvetson
"Jim's workshop introduced new, thought-provoking lessons. Already find myself adopting several of the practices every day." Brian Rumao, Chief of Staff to the CEO, LinkedIn
"Simple, yet powerful. It was the perfect closing for our Panama Young Presidents Organization presidential retreat." Jorge Morgan, President and CEO, MMG Bank