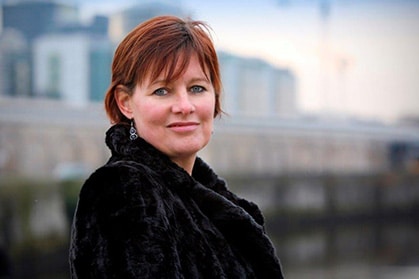 Jillian Godsil
Jillian Godsil is a freelance journalist with the business pages in The Sunday Independent and an ad hoc op-ed contributor with The Irish Independent. She has written for most of the Irish broadsheets, tabloids, print and online media. Her work has also been published in American, Singaporean and Australian publications. She is currently studying a Masters in Screenwriting at IADT.
Jillian has appeared on BBC Newsnight, French TV, Belgian TV, Russia Today, Al Jazeera TV and all Irish TV and radio channels. She has worked with South East Television doing 'I wonder' talks, and interviewing Wexford based business leaders, including Jim Bolger, the international racing legend. She is in demand as a motivational speaker and spoke at the Women's Inspired Network in Wexford and the WebSummit in Dublin in November 2014.
Jillian's background is in PR, running her own business in Ireland for twenty years, and previously director of Hill & Knowlton in Singapore and Sydney. Her first job was with JP Morgan in London.
Jillian has gone viral, trended on Twitter and signed contracts with Hollywood producers. She is however, still resident in Ireland. She sings with a number of choirs including the Omagh Peace choir and is travelling to Messines (Belgium) in December to celebrate the Christmas Truce of 1914. This will be made into a documentary for RTE. She learnt to horseride after her divorce and has been on a cattle drive in Montana and an equestrian safari in South Africa where she swam on horseback with hippos. The banks repossessed her home in 2013.
Jillian has written six books in the past two years and these are with her agent, The Jonathan Williams Literary Agency. She holds an MA from Trinity College Dublin. Jillian changed the law on April 16, 2014, ran for European Election (and earned 11500 votes) and is the president of her alma mater, The High School, Danum. She is divorced and lives with her two teenage children, dog, cat and horses in South West Wicklow. Her blog is at www.JillianGodsil.com
Topics
Jillian is available to speak on a variety of topics such as:
1.Bankruptcy; surviving & living through it
2.Politics; her journey with the European elections – from an ordinary person's perspective
3.Entrepreneurship; her own business, failures and successes
4.Literature; Jillian has been published six times in the past two years
Jill has addressed a variety of audiences including the WebSummit 2014, WIN Network, the Dot Conf, Women's Entrepreneurial Network and other small parish groups (whether they wanted her to or not).
Testimonials
"My fellow Director and I had the pleasure of experiencing Jillian's presentation at the WebSummit, in Dublin recently. What most impressed us, was her choice of subject matter and its lighthearted yet professional delivery to quite a varied audience. Jillian embraced the challenge of the technology created, noisy environment and used her personality to ensure that the audience latched on to her every word. We will listen again, when the opportunity arises".
Jim Kelly, Director, O'Connor & Kelly
"Jillian Godsil is a really unique speaker, with a riveting story to tell, of her life and business experiences. Warm, funny, engaging, and with a different slant to most 'inspirational' speakers. She really entertained our women in business group with her presentation, and gave us all good food for thought!"
Louise Fleming, Senior Enterprise Development Officer, Local Enterprise Office Wicklow