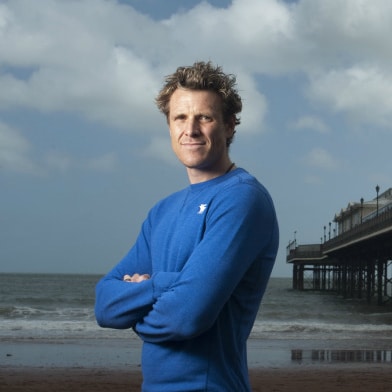 James Cracknell
With 2 Olympic Gold Medals, 6 World Championship titles James is an inspiring sportsman, athlete and adventurer.
In 2010, James Cracknell took on America- racing to cycle, run, row and swim from LA to New York in record time. It was during this trip that James suffered a near fatal accident after being struck from behind by a truck while cycling through Arizona. After a difficult six-month recovery period, James went to the Canadian Yukon, completing The Coldest Race on Earth. These stunning adventures transmitted as 'Unstoppable: The James Cracknell Trilogy' on Discovery.
Following this, James's did a series for Discovery in 2012, 'Worlds Toughest Expeditions'. The series sees James pushing himself to the limit of endurance. James has also successfully completed the gruelling Amundsen Omega3 South Pole Race with friend Ben Fogle and Dr Ed Coats and The race across The Atlantic, again with Ben Fogle . Both journeys were aired on the BBC and were accompanied by the books, Race to the Pole (MacMillan) and The Crossing.
James' recent programming saw him and Ben cross the Empty Quarter on camelback, which aired on the BBC in 2013, Ben & James Versus the Arabian Desert. James is Vice President of the Charity 'Headway' and has been appointed to lead Policy Exchange work on obesity and physical activity.
When not crossing oceans and continents, James is in demand as an entertaining corporate, motivational and after dinner speaker. Not to mention training for marathons, the Great North Run and many other races in the UK.
Summary
– Olympic/World Championship rowing 2 gold/6 gold
– Rowed the Atlantic
– Skied/trekked to the South Pole
– Swam the Straits of Gibraltar
– Represented Great Britain in triathlon at the European Championships
– Represented Great Britain in duathlon at the World Championships
– Hold the Guinness World Record for paddling a surfboard across the Channel
– Highest placed Britain at the Marathon des Sables
– Ran a decent marathon 2:50 and decent half marathon 1:18
– They only let 100 people into Badwater and James got a place
Topics
James is available for after dinner and motivational speaking as well as hosting.