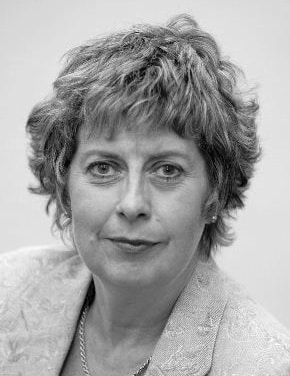 Ellen Gunning
Author, Broadcast Journalist, PR Expert & Entrepreneur
Ellen Gunning is the founder and director of the Irish Academy of Public Relations, the largest private provider of online public relations, journalism and event management education in Ireland. The Academy has partner colleges in Greece, Nigeria and the Middle East and has taught courses to over 5000 students, in 6 languages. Additionally, Ellen is a broadcast media journalist, author and accomplished speaker.
A Dublin native, Ellen began her journey in PR by taking courses with the Public Relations Institute of Ireland and was conferred with "Student of the Year." In 1985, she formed the PR consultancy Elton Communications, which handled a range of clients – individuals, SMEs, semi-state organisations. Over the years, Ellen has handled the publicity for Kerrygold Dublin Horse Show, National Energy Awareness Week and a campaign to elect the President of Ireland. She graduated with an Honors MA in Communications and Cultural Studies at Dublin City University as a mature student in 1999.
A member of the National Union of Journalists (NUJ) since the mid 1980s, Ellen is the Chairman of the Board of Dublin City FM radio station where she presents a weekly program – Mediascope. The program puts a spotlight on issues of interest to public relations, journalism and event management practitioners. The show is broadcast on Tuesdays at 1.30pm on 103.2 Dublin City FM and is podcast on the Academy's website www.irishacademy.com.
Ellen has written two books, and a third will be published in Autumn 2016. Her first book, Public Relations, A practical approach, is the core text for all courses in PR throughout Ireland. In 2005, Ellen designed postgraduate Higher Diploma courses in PR and Journalism which were validated by HETAC (the Higher Education and Training Awards Council) at Level 8 on the National Framework. Her second book, Capital Women of Influence, profiles 13 women across a range of disciplines who exercise incredible influence over Dublin.
Ellen's passion for community work and charities also gave her the opportunity to generate publicity for the voluntary causes that she is involved in including the Irish Cancer Society. She has served as a Government appointed director to the boards of the National Concert Hall and the Central Council of the Irish Red Cross. Ellen was also the President of the International Public Relations Association (Ireland), and is a former board member of the Public Relations Institute of Ireland.
Topics
Ellen has spoken on a very broad range of topics in the last 16 years.
They all reflect areas of her interest and can be broadly divided into four categories:
– The Art of Communication
– An Entrepreneurial Spirit
– Women in Business
– Motivation
Given her experience as an author, broadcast journalist, PR expert and online-education entrepreneur, Ellen has given talks on a multitude of topics including: Power of Brands, Networking skills for business, PR for local authorities, Promoting your business, Presenting yourself and your message, Achieving your goals, Giving a radio or TV interview. She draws on all of her experiences and practical knowhow to create interesting, memorable, inspiring, motivational and empowering speeches.
Testimonials
"Our Company first came across Ellen at a Women in Business Event some 4 years ago where she was a guest speaker. We were immediately impressed with the memorable speech she gave on that occasion. It was spontaneous and inspirational.  When we required such services ourselves our first choice has always been Ellen. Ellen comes to every event prepared and organised having researched the purpose and the context of the event in detail. Her speaking has always been engaging, witty and humorous where appropriate. She has the ability to be fully empathetic to her audience and "always says the right thing".  She is very balanced in her approach, is highly professional and a pleasure to deal with." – Angela Canavan, Canavan Byrne
"Ellen Gunning is one of the most engaging and dynamic communicators that I have had the pleasure to witness. Her passion, creativity and energy makes a connection with her audience. I have experienced Ellen's style in numerous ways through academic lectures, PR events and charity engagements and I have been blown away at how her message is spot on and relevant to the target audience and delivered in a fresh dynamic way. Ellen's life experience through her work and personal interests has given her a reservoir of resources to draw from and she is excellent at constructing messages that leave the hearer in no doubt that this lived experience is real and the lessons learned are worth valuing. I look forward to hearing Ellen at the next occasion so that I can take something from it to improve my own journey." – Daragh Kennedy, National Adult & Child Protection Officer, Irish Wheelchair Association
"Ellen Gunning is an engaging speaker who introduces her vast practical experience in her work in public relations and event management to bring alive her presentations. Having seen Ellen speak first at an event called "10 Hot Tips to promote Your Business" over 6 years ago, I asked her to do a similar event in Carrick on Shannon. Her talk that evening was inspiring and many of the businesses present queued to speak with Ellen afterwards. Unlike many speakers I have seen Ellen, if using powerpoint, only uses it as an aid to the audience but it is the stories and practical advice around the topic which people remember long after the presentation. I have found that she is not skimping with her time, actively encourages audience engagement and is willing to speak on a one to one with participants for some time after any event I have seen her speak at or engaged her to talk at." – Nollaig Whyte, Economic Development Officer, Leitrim County Council
Awards
In 2011 she won the European Parliament Broadcast Journalist of the Year award (Ireland).
In 2014 the Event Management Industry in Nigeria recognized her contribution to international PR with a special award.
In November 2015, she was elected Chairman of the Board of Dublin City FM radio station.
In September 2016, Ellen's third book, Ten Red Hot Tips to Promote Your Business, is due to be published.