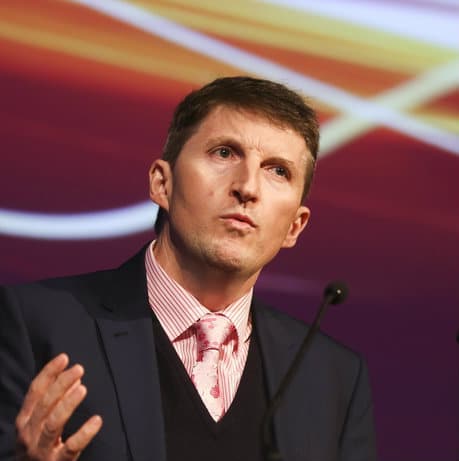 Dr. Mark Rowe
Happiness, Wellbeing & Mindfulness Expert
Dr. Mark Rowe – medical doctor, thought leader, international keynote speaker and author.
By sharing his personal stories and unique insights, Mark uses his vast expertise in human behaviour, medicine, health and wellbeing to create meaningful experiences tailored specifically for each audience. By incorporating his new philosophy of wellbeing with down to earth practical take home messages, he facilitates lasting positive change in people and their organisations.
Dr. Mark Rowe has worked as a Family Physician for 20 years; is a thought leader in the emergent areas of health, happiness and high performance in life, and member of Healthy Ireland Council.
He is a member of "Leading by Design ", an invitation-only international collaboration of leaders committed to improvements in health through a more effective design of the environment.
He founded the Waterford Health Park as a new paradigm for sustainable improvements in community health. The building was a short listed finalist for World Building of the year at the World Architecture festival awards in 2010. In 2013, the Waterford Health Park received the Global Health Improvement Award, " A Place to Flourish. "
He is author of 'The Men's Health Book – A Guide for the Irish Man' which was published by Blackhall Publishing in 2009 with all royalties going to a Cancer Charity. He has also contributed to books on Leadership in Ireland and Healthcare Management. He has delivered sell-out one man shows for theatre audiences called "A Prescription for Happiness."
He graduated from U.C.D. Medical School in 1991 and went on to specialise in family practice, becoming a member of the Irish College of General Practitioners in 1995 , having achieved first place 'Ellerd Eppel' award.
He has worked with media consistently over the years as an advocate for health. He delivers seminars on "Health Leadership" and is an international keynote speaker on the topics of "New Philosophy of Wellbeing", "Health Leadership", "Generative Space" and "A Prescription for Happiness".
He also holds the position of Chairman of the board at Garter Lane Arts Centre in Waterford City.
Topics
Mark's key messages, which can be tailored for the specific needs of any audience (from 6 to 600), include ways to:
1. Improve your health (psychological fitness, energy, emotional vitality, and relationships)
2. Transform your life
3. Expand your happiness
4. Reach more of your potential in life
5. Enhance the "health IQ" of your organisation (expanding knowledge, awareness and positive attitudes to inform better choices and decisions in terms of organisational wellbeing).
Some of Mark's Keynotes:
– Generative Space: designing environments to transform your wellbeing
– Mindfulness at Work
– Creating A Place to Flourish
– Why the health of your business is the health in your business
– Prescription for Happiness
– The Power of Gratitude
– Psychological Fitness: Building a Winning Mindset
– The DNA of Awesome
– A Blueprint for Biochemical Brilliance: Building the Golden Egg of Great Physical Health
– Legacy: Finding your Purpose in Life
– Spiritual Health
– Men's Health: From Mission Impossible to New Frontiers
Testimonials
"Mark Rowe's two day seminar 'Prescription for Happiness' equips one with all the tools we need to set ourselves firmly on the path to inner happiness and fulfilment. Marks delivery style is full of such integrity and depth of knowledge you will leave this stunning environment with renewed vigour and clarity into how best to maximise your sense of well-being for the rest of your life…..I would highly recommended this to anyone who wants to get the most out of life and know true happiness."
– Vivienne McSwiggan
"Dr Rowe has been an incredibly positive influence in my life. I've been taking Dr Rowe's prescription for happiness for some time now and it's made a huge difference to my life. I've lost 5 stone, I work harder, I'm healthier, I'm strengthening my relationships and I savour life more. I can't recommend Dr Rowe's workshop highly enough."
– Cian Foley