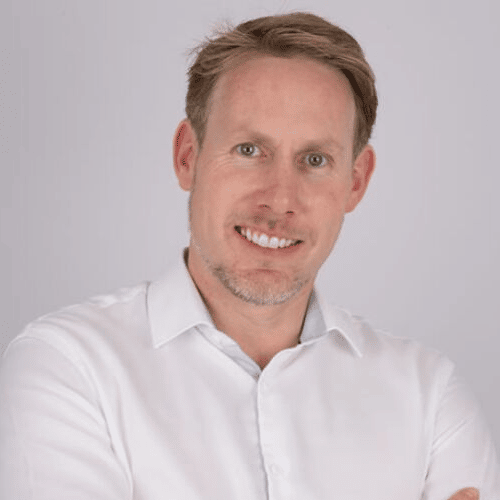 Paul Adamson
Motivational Sales Speaker & Business Consultant
Business consultant Paul Adamson's background means that his stories and strategies are developed from real world experience. His life both in the boardroom and on the water, has left him perfectly equipped to be one of Europe's best emerging motivational sales speakers.
Having become a professional sailor at the age of 18, Paul spent the following years at sea in the company of billionaires, captains of industries and major celebrities. His time sailing saw him skipper a yacht circumnavigating the globe with former Formula 1 team boss and BBC Top Gear presenter, Eddie Jordan, but more importantly it developed him into a leader, an achiever, a teacher and a motivator.
Back on dry land, Paul embarked on a new adventure, lending his energy, experience and enthusiasm to improving performance in big business. Since then, Paul's seen success after success as he's partnered with international companies and organisations to "transform perspective and empower performance". Paul firmly believes that if you can envision, you can achieve it – when you shift your perspective and implement the right strategy.
He has developed professional, powerful tools that will transform the mindset of your team, giving them the ability to act and achieve, delivered through Paul's energetic combination of stories and strategy. Previous themes have included courage, decision making, resilience, strength and team building, to name but a few. Every company is unique though, so Paul will partner with your business to create bespoke sessions based on individual requirements, looking at both your current and future needs.
Whilst every session may be different, they will all have a consistent outcome – greater performance, increased sales and a fresh perspective for you, your team and your company.
Paul equips people by empowering as he understands that a person learns best by doing, so he won't simply tell your team what to do – he'll teach them how to achieve it for themselves. He doesn't stop there though – Paul empowers his audience to in turn empower others. The result of this is that your team will have the tools they need to pass on their perspective to the rest of your company, growing their mindset for even better performance.
Paul is partnered with leading Irish businesses seeing impressive results and outstanding feedback. He is a proven, popular keynote speaker at annual employee conferences, management meetings and sales team workshops. His experience and energetic, engaging style allow him to deliver results with impact. He will equip you, your team and your company by transforming perspectives and empowering performance.
Topics
THE WINNING MINDSET
Why do some people consistently achieve? In this enlightening presentation, Paul will teach you how to implement the cycle of success into your business. This is an engaging keynote designed to challenge you to think differently and take action!
Includes:
Human Motivation
How to Ignite Your Passion
The Power of Beliefs
How To Implement The Results Cycle
Realising Your Full Potential
Popular with: Annual Employee Conferences, Sales & Marketing Management Meetings / Conferences, Leadership Conferences, HR & Recruitment
CHALLENGING LEADERSHIP
How do you lead through a storm? When the pressure is on, does your leadership style change? Paul will share with you, simple steps and strategies that will improve your leadership when the going gets tough.
Includes:
The 4 Styles of Leadership
Assessing Your Depth and Breadth of Leadership
How To Remain Calm Under Pressure
Communicating with Clarity
Leading Your Team Through Any Weather
Popular with: Annual Employee Conferences, Sales & Marketing Management Meetings / Conferences, Leadership Conferences, HR & Recruitment
HIGH FLYING SALES
Based on Paul's new book (launching March 2018) this keynote delivers The 7 Essentials of High Flying Sales. Packed full of stories, anecdotes and real-life examples, you will be entertained and inspired to raise your performance using the 7 Essentials.
Includes:
The Importance of Your Personal Energy
Developing Your Natural Influence Skills
Understanding the Power of Flexibility
Creating a D.E.A.L Plan to Guide You to Success
Popular with: Annual Employee Conferences, Sales Management Meetings / Conferences, Marketing Meetings / Conferences.
Testimonials
"Paul delivers consistently on all levels! He's inspiring, understands what it takes to achieve at the highest level & is a talented speaker that will inspire your team to new levels!" – Eddie Jordan
"The feedback is immensely positive from the team with them in particular being clear that is helping them prepare for and having difficult customer conversations." – Valeo Foods Ireland
"Paul's unique insights, story & passion engaged our team instantly. He inspired them to raise their standards and this improved our overall performance in the business in rapid time!"  –Patrick Rigney
"I feel invigorated and motivated, your delivery is quite exceptional and very interesting the way you have day to day references for each particular section you are presenting at that time to make the subject crystal clear." – Valeo Foods Ireland
"I just wanted to Thank You for a super day today. I found it is extremely interesting and opened my mind about my own, "State" and how to manage it!"  – Pelagos Yachts
"Brilliantly clear, informative and I learned about how and what I want to put into action. I'm also going to go for my first jog in years tonight so I have got to finish this mail!!" – Jacobs
"Great day yesterday, looking forward to putting everything into practice. I have tackled some difficult problems early this morning. No more fear!" – Ovelle