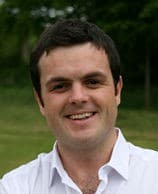 Ben Cunningham
Adventurer, Author & Speaker
From June '08 to March '09 Ben Cunningham cycled 22,000 kilometres from Alaska to Argentina; the world's longest road. He was 22 years old. Ben has subsequently cycled thousands of kilometres, the length of countries such as Norway and Spain. He has recently written the book The Longest Road An Irish Pan American Cycling Adventure about his biggest achievement. Ben is now a barrister as well as writer, speaker and adventure enthusiast.
Topics
Ben Cunningham speaks about the Pan American Highway and his epic bike ride down that route. His speaking style allows the key messages learned from his journey to flow naturally rather than to hard sell.
Audiences have learned about the value of teamwork, leadership, humour and organisation to complete a task as big as his 22, 000 kilometre cycle from Alaska to Argentina. Ben's speaking engagements have been described as captivating, entertaining and above all valuable.
Testimonials
'Ben tells an amazing story of his enormous bike ride from Alaska to Argentina. He does so in his own style allowing those listening to take from it what they want. We found this style to be effective. Listening to how he and his team completed the task and overcame the trouble they encountered was extremely energising.'