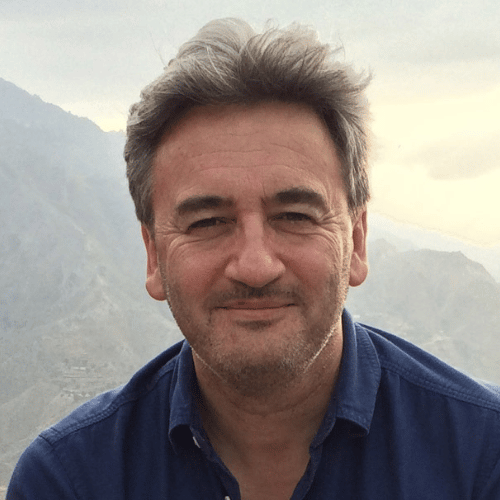 Fergal Keane
BBC Foreign Correspondent & Author
BBC Correspondent & author Fergal Keane is one of the BBC's most celebrated foreign correspondents and has covered most of the world conflicts of the last thirty years. He is a Professorial Fellow at the Institute for Irish Studies at Liverpool University. He is the author of several bestselling books including 'Season of Blood – A Rwandan Journey' which won the George Orwell Prize. Keane comes from a well-known Irish literary and theatrical family. He is a passionate fan of Munster rugby which, he says, has kept him sane in many war zones.
Fergal was born in London in 1961 but was brought up and educated in Ireland. He began his career in journalism in 1979 as a reporter on the Limerick Leader and Chronicle, before moving to the national daily newspaper, The Irish Press. BBC Correspondent and author Fergal's first taste of broadcasting was with Radio and Television Eire, where he was a reporter/presenter from 1984 to 1987, later reporting from Belfast for the station. Fergal joined the BBC in 1989 as Northern Ireland Correspondent.
In August 1990, he was appointed Southern Africa Correspondent, after having covered the regions during the early 1980's. Fergal's reports covered the township unrest in South Africa, Mandela's increasing popularity and the first multi-racial elections following the end of apartheid. During this time he traveled the length and breadth of the country from the white farms of the Northern Transvaal to the vast townships of the Witwatersand. From this experience he wrote a book "The Bondage of Fear" (Penguin Books, 1995) primarily about the experience of ordinary South Africans as history propelled them towards a new uncharted country.  As Southern Africa correspondent he also covered the civil war in Rwanda. "I had seen war before, I had seen the face of cruelty, but Rwanda belonged in a nightmare zone where my capacity to understand, much less rationalise, was overwhelmed".
Other books by BBC Correspondent & author Fergal include Books: "There Will Be Sunlight Later – A Memoir Of War" – Harper Collins (to be published Autumn 2004); "A Strangers Eye" – Penguin Books, 2000; "Letters Home" – Penguin Books, 1999; "Letter To Daniel" – Penguin / BBC, 1997 and "Season Of Blood" – Penguin Books, 1996.
In 1995, Fergal became the BBC's Asia correspondent, covering all the main stories in the region; from the Tokyo gas attacks in January of that year until the handover of Hong Kong from British to Chinese rule on July 1st 1997.
Fergal is a weekly columnist with the Independent newspaper and a columnist with 'Traveller' magazine. He also writes occasionally for the Spectator.
Topics
Event Chair
After Dinner Speaker
History
Public Relations
Current Affairs
Global & Civil Unrest
World Leaders
Global Politics
War Zones
Awards
OBE for work in Africa (1996)
Royal Television Society Journalist of the Year
BAFTA
Sony Radio Reporter of the Year
Voice of the Viewer and Listener Award
George Orwell Prize
Bayeaux Prize for War Correspondents
Edward R Murrow Award for War Reporting
Human Rights Journalist of the Year Amnesty International
One World Media Award
Index on Censorship Award for Outstanding Commitment to Journalistic Integrity
The BBC Correspondent & Author is also the recipient of several honorary degrees from institutions including Queens University Belfast, University College Cork and Liverpool University and Honorary Doctor of Letters, Strathclyde University; Honorary Doctor of Letters, Staffordshire University.
Testimonials
"The conference went really well on Saturday and Fergal was definitely an inspiration to our members. His openness and honesty about his experiences and his delivery left all of us in awe. I appreciate your help to organise this and hope to work with you again for future possible events." – Vicky Colthart, Relationship Manager – Ireland, The Medical Protection Society